Google Penguin Will Encourage Only Genuine SEO Practices
Google has announced release of Penguin 2.1, which is an addition of some algorithms to its Penguin 2 to fight spam. The major search engine company launched the Penguin 1 on April 24, 2012 and since then there have been versions such as Google Penguin 2 on may 26, 2012, Google Penguin 3 on October 5 in the same year. In 2013, it launched Google Penguin 2 [which is also called officially as Penguin 2.0, and Penguin 5, officially as Google Penguin 2.1.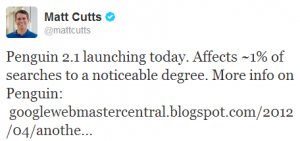 About the new version Penguin 2.1, Matt Cutts, the head of Google's spam tem for web has said that it will impact around 1% of queries. Google also had released Panda algorithm to eliminate low quality content from the search queries.
The same confusion about the numbering of Penguin series was there in Panda series also. Then, Google had released Panda 1, 2 and 3, but called the third one as 2.1 just as it numbered its Penguin 3 as 2.1, saying in the both the cases that the .1 indicated some smaller changes made in the algorithm.
The numbering confusion aside, main aim behind releasing Penguin series and making new amendments was to get rid of lower quality of content and duplicate content from the search queries.
The result of Google Penguin 2.1 has already started to come as many websites have been thrown back to many pages back. Those sites which were once at the top for some keywords have now gone to invisibility. This is because of link farming and duplicate content were involved in ranking of these sites previously.
So, how to be in good books of Penguin?
If your website has suffered huge set back due to spam fighting Penguin series of algorithm, to get back the site ranking, you should get rid of the fake links on your website. Eliminate all those bad links that you earned previously for ranking well. If your site was thrown back by many pages, and now after deleting the bad links, if some improvement is shown in the site ranking, this means that your site has escaped the onslaught from Penguin.
If you were previously hit by Penguin and have taken actions hopefully meant to fix that, today and tomorrow are the days to watch. If you see an improvement in traffic, that's a sign that you've escaped Penguin. Make sure that you submit only genuine and original content to rank higher and to avoid punishment from Penguin.
The following two tabs change content below.
(DE) -- Hallo, ich bin Ben Müller - Ich berichte mit meinem Team über die neuesten Trends und Entwicklungen und wünsche Ihnen viel Spass beim Lesen.                           (EN) -- Hi, my name is Ben Mueller – my team and I cover the latest trends. We hope you have fun reading!                     
Latest posts by Ben Mueller (see all)